living like washington.
let's be honest. i am really making this post for two reasons:
one: everyone i wanted to chat with tonight is out and about and i am too cold and wimpy to leave the house.
two: i figured out how to put a movie on my ipod. the video woven into this tale: washington. this is the true wave of the future. i used to scoff, but now i am a believer. also, apparently, i am really into nasa.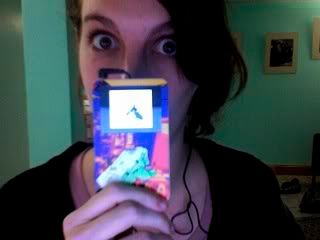 the last few weeks muddle together into a collage of notable moments. rooftop views overlooking the setting sun on two different nights. the lights flicking on as the horizon gradually fades into city gray and orange night. hot green tea with honey and lemon. a little girl smiling ferociously as we cross into brooklyn. the mornings getting cooler and cooler. fierce rains. cassoulet on a cold night. and promises of baja in the summer with yet another wedding to attend. a. not my own. b. remember those tacos? we had a roommate outing to a book sale in soho a few blocks from where i work.
each time i walk out for lunch i pass by anna sui, louis vuitton and occasionally marc jacobs. and everyone that walks around me takes on the extremes of the spectrum. things began to change at the office. i'm managing an adidas event which is not quite as amazing as it sounds. i've met josh madden (who is a rad ninja from what i can gather) and have had access to open bars and free snacks. i'm asked to join meetings and have been praised for designs. but then on the flip side, i still look enviously at the art department.
admittedly, i have a record of some minor internet stalking for people who have somehow avoided the onslaught of the digital world. and the other night i discovered one. the mormon boyfriend. who now, i guess, is married and has two kids. of course, i flipped out and was like, "omg, how the fuck are you?", except more charming and witty. in true fashion, i was eagerly anticipating his response. (for a reference, this guy was like, my highschool sweetheart. this is important to note i suppose.) after three days of waiting, i finally hear back from him with a rather inane note. which sucks. b/c it was one of those instances in which i realized i must have thought about him a lot more than he thought about me. note that this is not in a bitter tone, just an "oh" tone. also, i realize this could perhaps be related to the fact that we are a totally different points in our lives. i dunno where i'm going with this. basically, it is what it is. do i know anyone who has married, pregnant friends who doesn't think it's somewhat odd? does it make me a twat to think that it's totally wack at this point and to admit i have yet to get truly down with anyone i know who's gotten married?
right now, i wish i could go out for drinks with a. hunter thomas. or eat some good cheddar cheese. my feet are cold. i need to write dawash. and i'm in a mega-rut artwise. (this list will seems boring in about an hour to me. somehow i cannot escape adding commentary to my own thoughts when i think they're lame. at least tonight.)